Cashmere Bengals are long hair Bengals. We found out in 2018 we had some cats with the long hair gene. I never bothered to test for long hair because honestly I knew nothing about the Cashmere Bengal. I never really heard of them, and have never seen one in person before. The first born here was in 2018.
When she was a kitten I thought she was just in that awful Bengal fuzzy stage but for a longer time than usual. I had offered her to a repeat client who wanted yet a different looking Bengal than she already had. This would be her 4th PoolsideCat. A deposit was placed on her. Only after the deposit did I realize she was a long hair cat. Was I so disappointed I had taken a deposit on her, you betcha! But I am a lady of my word, she was going to live with a client and have a Seal Mink Bengal, a Silver Bengal & a Brown Bengal sibling. I hope I don't regret that. 
Our first Cashmere Bengal was named Roses by her pet parents. Roses is a Sepia rosette long hair beauty. Sepia is the darkest of the snow Bengal cat. Her coat is silky soft and puffy. She has such a thick fluffy tail too.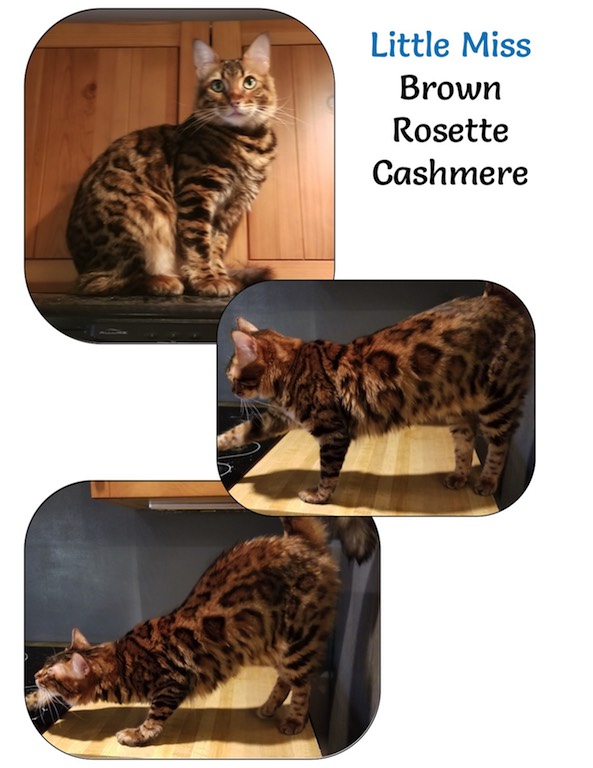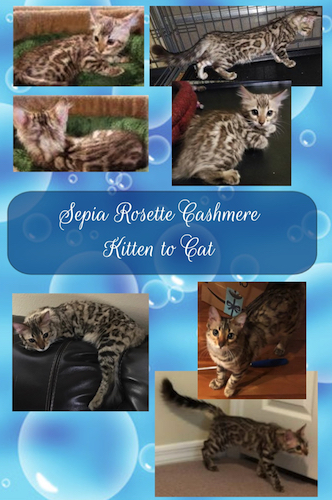 As of 2013 hobby breeders can no longer ship pets. All pets are placed face to face. We gladly meet our clients for a reasonable transport fee some place in the middle.
Ask for more information.