Every life should have 9 cats
Where Health, Quality & Purrsonality matter!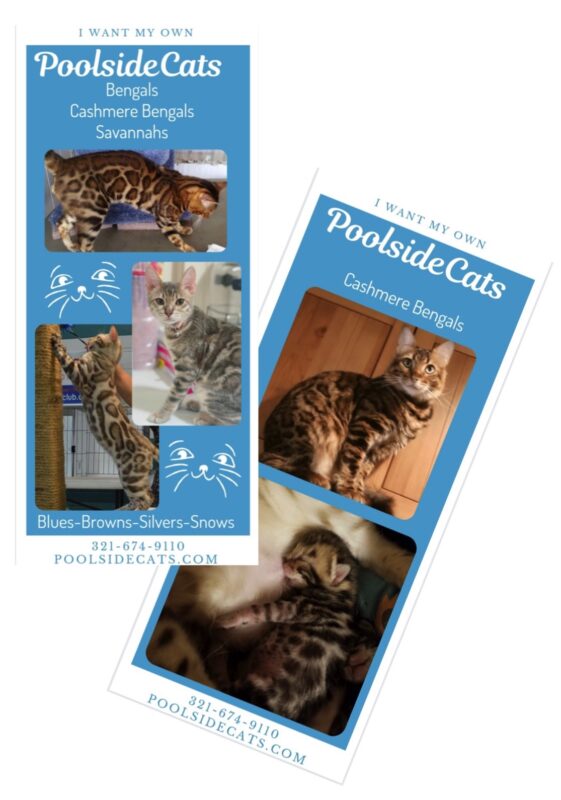 We are a home based hobby breeder of Bengal, Cashmere Bengal, and Savannah cats In Central Brevard County, Florida. Our kittens are raised in our home underfoot. All of our kittens or cats are altered before being placed in their forever pet homes. Spaying & neutering is included in purchase price.
These breeds come in multiple colors and patterns. The colors and patterns we breed for are listed below.
*** One important thing you should know about these two breeds. They change a lot as they age. The colors of the browns most likely will warm up or get a nice striking dark color on the cool browns. They do not completely become their color until 6 mons or older. Silvers can get darker patterns as they age. The snows change the most. The Seal Lynx Point is born all white (most times) and their pattern comes in as they age. They are also the only BLUE eye Adult Bengal cat. The Seal Mink pattern will darken up too between 6 months to a year. The Sepia is the darkest of the snow Bengals. 
COLORS: Browns (50 shades of Brown), Blue, Silver, Seal Lynx Point (snow), Seal Mink (snow), and Sepia (snow).
PATTERNS: Marbles, Sheeted Marble, Rosette and Spotted.
PoolsideCats.com is a responsive site, viewable in desktops, laptops, tablets, & phones. Take a look around, there is an abundance of information, tips, and lots of photos of our amazing looking cats, some past and some present. All cat photos  were either from our cats, were our cats or are our are cats. So when you see an example being pointed out know it is not an internet photo.
Within PoolsideCats.com I've added information to be helpful for my clients. The information is collected from things that I have learned over time to things my friends and/or clients have asked me about. I hope you find PoolsideCats.com helpful. I'm sure over time the "Did you know?" Blog page will have tons of helpful tidbits. 
PLEASE take the time to read through our site BEFORE calling, texting or emailing with the standard question…."Got any kittens?" Thanks a bunch!
When emailing please include the following.
Where are you located?
Do you live in a house, condo or apartment?
Do you have a screen pool or patio?
What family pets do you have?
Anyone with allergies in the family?
What is on your wish list….breed, sex, color, pattern.
When were you looking to add a PoolsidePet to your family?
What is your budget price range?
— We have Cashmere Bengal kittens! —
Brown, Seal Sepia snow
***Deposit wait list is open again for kittens.***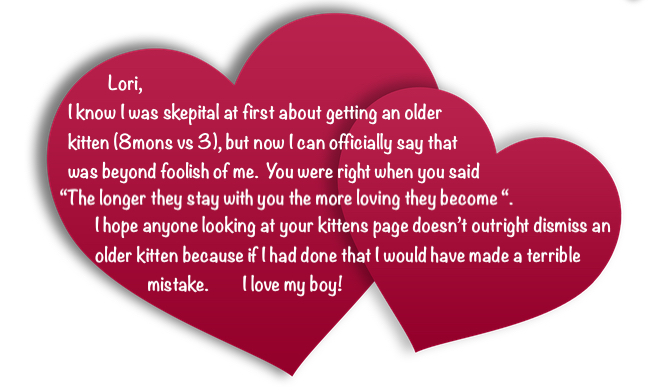 Which breed is your favorite?
Most times our pets do better in numbers!
What's included with your PoolsideCat?
As of 2013 hobby breeders can no longer ship pets. All pets are placed face to face. We gladly meet our clients for a reasonable transport fee some place in the middle.
Ask for more information.