You've picked out your Poolside kitty, let's go shopping!
1.  Litter boxes – We use Sterilite storage containers. You can buy them at most Wal-mart store for under $7 a box. They are about 24 inches long x 18 inches wide x about 12 inches high. We recommend getting several. They work great stacked with product in them, makes them ready to go and they don't tip over when stacked.
2. Cat litter – We use Equine Pine Pellets. We buy ours at our local Tractor Supply store for $6-$7 a 40lb bag. It is the same litter as Feline Pine Pellets just whole bunch cheaper.  We use a water pitcher as a measuring cup. If you measure each litter box out, you should get about 10 litter boxes out of one bag
.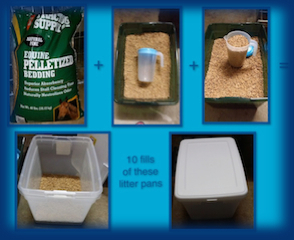 3.  Cat condos and toys. Our Bengals & Savannahs have plenty of cat condos to start them out on the right path. Now its your turn to continue to provide them with their learning tools. We have no cats scratching our human furniture because we have all the cat condos any cat would want. In fact we rarely have cats sitting on the human sofa.