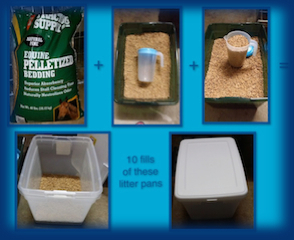 Litter boxes plain and simple!
Everyone hates to talk about the litter boxes for our cats. I don't know why… if you do a good job keeping your cats litter box(es) clean everything is good. The problem most times is the human – not the cat. Some people don't clean their cat boxes as often as they should. I will explain just how easy it can be, how to cut your box duty time, save you product, keep the house smelling clean, and your cat will love you for it.
KEY POINT: It is ALWAYS wise and best to have AT LEAST 1 more litter box than number of cats you have in the house. And please, do NOT have them all in one area, like all in the laundry room, or all in the garage. Think of this, you are up on the 3rd floor of your house, you have to go to the bathroom. You MUST go down to the basement because that is the only place there is a bathroom. If you don't like going all that distance, neither does your cat!  You want to have your litter boxes spread all around the house. I suggest have one close to each room you hang out in most. Your cat is your family member, he/she will want to be hanging out with you. So please keep this in mind when buying and placing your cats litter boxes!
What you will need:
A WATER PITCHER: We use a water pitcher as a measuring cup. (dollar tree – in above photo)
BOXES: We have found that litter boxes are too small and too expensive for a Bengal or Savannah cat. These breeds tend to be a longer torso cat and a taller cats. Most time your cat is standing in the litter box you purchased from your local pet shop with his rear end pointed out. Yep peeing right out of the box. 
We use sterilite boxes from our local Walmart or Target store. They are approximately 16 inches wide x 24 inches long x 12 inches high. (Photo above.)  
LITTER: We stopped using clumping litter years ago. Too dusty, too dirty, and it really is not healthy for your cat to breathe. Also clumping litter clumps when wet…if your cat grooms, he/she gets clumping litter in the belly, I wouldn't think that would be a good thing.  We do not use clay either.
We use (equine) Pine Pellets for cat litter. It is the same as Feline Pine Pellets just a bunch less in price. We get ours at our local Tractor Supply store. 1 bag which is 40lbs cost around $6. Feed stores sell Equine Pine Pellets too! 
We have several boxes, I use several stacked with pine pellets (about 3) per litter box setup around the house. This way when I dump one, I am able to remove one if it is horribly dirty leaving some stacked in its normal place so cats always have a litter box at their disposal.
This is what I do… I use the water pitcher as my measuring cup. I put one pitcher full in each box, stacked 3 high with pine pellets. Because we are in several rooms of our house at any given time I have many litter boxes around. I dump boxes, yes dump boxes the night before trash pick up. Refilling and replacing  after cleaned. We feed a raw diet to our cats so we have NO SMELLY poops. (more on the raw food diet in another post)We hardly have a urine smell either. When the pine pellets get wet from urine it breaks down to a powder, time to dump. 
I have found, that if you use a water pitcher, 1 filled pitcher per box, you can get about 10 litter fills out of 1- 40lb bag of Pine Pellets. 
**** I have done something to make my litter box cleaning so much easier. Now I realize I will have way more litter boxes than you but I still thought it was worth sharing! 
I bought a small brute trash can with a lid, (amazon) it comes up to my hip, and a trash can wheel caddy for it. I put 2-3 bags of equine pine pellets in the trash can along with my pitcher measurer. I have another trash can, same size with a trash bag liner for dirty litter box garbage. I dump in the trashy litter powder, spray box if not horribly dirty – with a kitchen bleach cleaner, wipe clean, fill it with pine pellets. Job done!  I check all litter boxes the night before trash night. This practice will give you a clean smelling house, a cleaner box for your kitty and a routine not too hard to keep up.