Good afternoon Lori,
I meant to write you sooner and give you an update on JJ. But business has been very busy and demanding a lot of my time. Our eight year old female Bengal needed a companion, so my homework after work was to spend hours on google looking for a retiree Bengal from a reputable breeder in Florida, I came across many, but your webpage got my attention because of your animals. I immediately knew you had the quality we were looking for. Two weeks later were driving up north to up JJ.
First let me tell you how amazed we are with JJ's personality, we were thinking of giving him a new name but the way he responds to JJ is just like a dog, so he is keeping it. I think deep inside he things he is a dog, he follows me around the house and likes to be pet all the time, unlike my other cat Agatha that we got elsewhere, her personality is just like a cat and under her own terms.
I am so glad we found you, meeting yo was so nice and how you answered all of my questions with patience and knowledge. I know I already told when we met, but let me repeat it, I couldn't find anything near similar to the quality of your animals! The package that you gave us with all of the clinical history of JJ was impressive! We felt we had adopted a child. We can clearly see the amount of time and love you dedicate to your animals, you will be getting referrals from us very soon!
Thank you a million times!!!
Alfonso – (Multi PoolsideCat Pet Parent)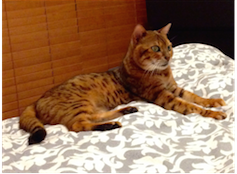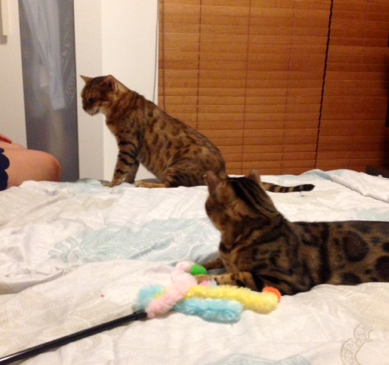 As for Cubby, she is the sweetest as honey, it is amazing how sweet she is.  She even rolls for us to touch her, she does ask for much more affection than JJ or Agatha.
I also noticed the difference in energy and how she climbs the 86″ cat tree like nothing.
Once again we are extremely happy that we reached out to you for the second time! Like I told you, you are simply the best out there in your field, period!
Alfonso (Multi PoolsideCat Pet Parent)